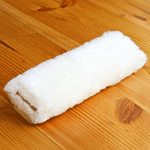 For these products & surface sizes
ORIGINAL
MARINE
LARGE SURFACE
Product Details
Available in 7″ to 14″ lengths and are 2 ¼" wide. The 7" – 12" block and pads are recommended as they fit the 13″ paint roller pan.
Use one block and pad per project and one refill pad per coat or clean pads thoroughly after each use with Mineral Spirits.
For use with our 3-Piece Extension Handle.
Also fits most conventional broom handles with universal threads.
Before using new applicators, "clean" them by removing loose bristles or fibers. Aggressive dry brushing or a paint brush comb may remove any loose bristles. For pads, use a lint roller, wrap in masking tape or run through a dryer cycle to remove any loose fibers.